The following article is from the National Right to Work Legal Defense Foundation's bi-monthly Foundation Action Newsletter, November/December 2018 edition.
Foundation fights to enforce SCOTUS victory and return illegally seized union fees to employee victims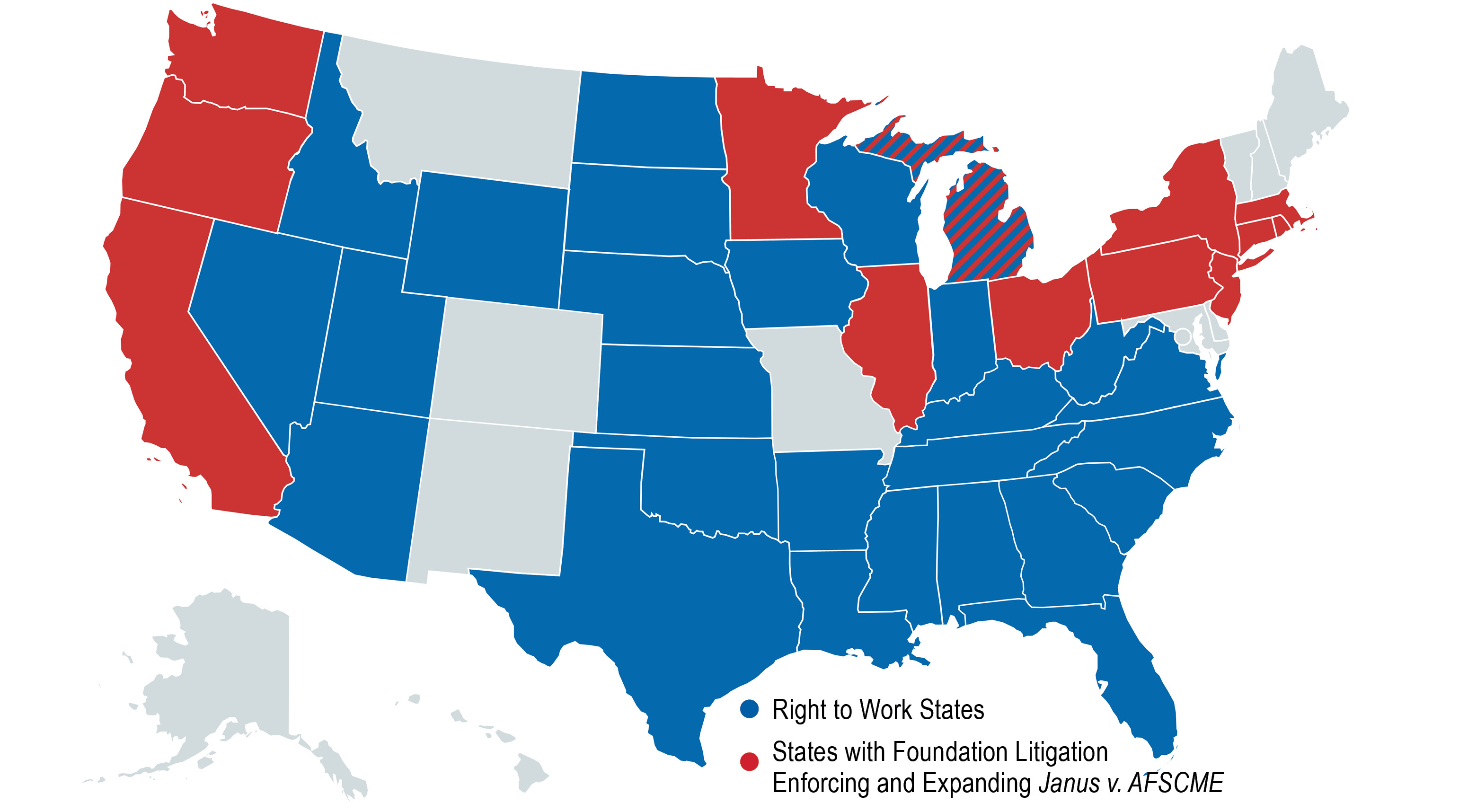 Foundation staff attorneys are already litigating more than a dozen cases for public sector employees previously forced to pay union fees in violation of their First Amendment rights, and receive more requests daily.
SALEM, OR – After years of being forced to financially support a union, public sector workers across the country are finally free from compulsory union fees as a result of the Foundation-won U.S. Supreme Court Janus v. AFSCME decision. Enforcing the monumental victory, Foundation staff attorneys are providing free legal aid to thousands of government employees to reclaim their hard-earned money through class action lawsuits.
In Janus, briefed and argued by Foundation staff attorneys, the U.S. Supreme Court ruled that charging any government employee union fees as a condition of employment is a violation of the First Amendment. Unions may collect fees when an employee gives their clear and affirmative consent.
Government employees are now looking to hold union officials accountable for money unconstitutionally seized before the Janus decision. Foundation staff attorneys have filed several class action lawsuits for workers.
Oregon Workers Seek $30 Million in Refunds
Together, the suits seek more than $170 million to be reclaimed from union officials' coffers and returned to the individuals who earned it in the first place. That amount will continue to grow as Foundation staff attorneys file more class action lawsuits to seek forced fees refunds for more government employees.
In one such lawsuit, potentially tens of millions of dollars are at stake for a class of thousands of Oregon state workers.
In September, a group of public employees filed a lawsuit against the three largest Oregon public sector unions with a class action complaint to enforce the Janus precedent. Foundation staff attorneys represent the group as they seek refunds of forced fees from Oregon affiliates of the Service Employees International Union (SEIU); American Federation of State, County, and Municipal Employees (AFSCME); and the National Education Association (NEA), as well as the Oregon-based Association of Engineering Employees (AEE).
The lawsuit seeks the return of affected workers' money taken by the unions over the last six years, as allowed by the applicable statute of limitations, which is estimated by legal experts to total 30 million dollars or more. The Oregon employees' lawsuit is just one of several across the country.
Connecticut Civil Servants File Lawsuit to Reclaim Forced Fees
Also in September, Kiernan Wholean and James Grillo, workers at the Connecticut Department of Energy and Environmental Protection (DEEP), filed a complaint against the Connecticut State Employee Association (SEIU Local 2001) and the Secretary of Office of Policy Management, the Undersecretary of Labor Relations, and the Commissioner of DEEP of Connecticut.
Wholean and Grillo are not members of SEIU Local 2001 and had not consented to the deduction of forced union fees from their wages. Before Janus, they and other non-member employees had been forced to pay union fees as a condition of employment.
Connecticut stopped deducting union fees from the workers' wages following a letter to the State Comptroller from the National Right to Work Foundation, which threatened legal action for any dues deductions from non-members that continued after Janus. However, DEEP still maintains a monopoly bargaining agreement with SEIU Local 2001 officials that requires non-members to pay union fees to get or keep jobs.
The complaint, filed at the U.S. District Court for the District of Connecticut with free legal aid from Foundation staff attorneys, asks that the court certify a class to include all individuals who during the statutory limitations period were forced to pay union fees to SEIU Local 2001 without their affirmative consent, and to order the union to return the unconstitutionally seized fees to the class. The class potentially includes hundreds of workers.
California State Workers Seek Millions in Refunds from SEIU Officials
Adding to the legal attack on union officials' ill-gotten gains, a California state employee filed a lawsuit to enforce the Janus victory and return unconstitutionally forced fees to potentially 5,000 workers.
William Hough has worked at the Santa Clara Valley Transportation Authority (VTA) since 2005. He in no way wished to support Service Employees International Union (SEIU) Local 521 and exercised his right to refrain from union membership. However, he and other non-member employees were still forced by state law to pay union fees to keep their jobs.
After the Janus decision, Hough seeks the return of the money union officials seized from him and other employees. With free legal aid from Foundation staff attorneys, he filed his class action lawsuit against the VTA, SEIU Local 521, and the Attorney General and Governor of California.
Hough's lawsuit asks for the class to include all affected individuals who, at any time within the applicable limitations period, were forced to pay fees to SEIU Local 521 without their consent. With a potential class of 5,000 workers, those union fees may total five million dollars.
The lawsuit also challenges the constitutionality of California's law that, despite Janus, still authorizes Local 521 and its affiliates to seize union dues from non-members without their consent. Hough asks the court to declare such California laws a violation of the First Amendment.
In addition to the new cases reported in this article, Foundation staff attorneys continue to pursue other lawsuits to recoup forced fees for workers, as reinforced by the Janus precedent. In Hamidi v. SEIU, a class of 30,000 California state workers seek more than $100 million in unconstitutionally seized forced union fees. In Riffey v. Rauner, a group of Illinois home care providers asks for the return of $32 million in union fees seized through another coercive scheme.
"While hundreds of thousands or more non-member government employees are no longer having forced fees deducted from their paychecks, that doesn't address the decades of constitutional violations perpetrated by union officials against workers," said National Right to Work Foundation Vice President Patrick Semmens. "Justice demands that the money union bosses illegally seized be returned to the victims of such schemes."